This is a time-limited reporting effort aimed at capturing the shifts in abortion volume, by state, following the Dobbs v Jackson's Women's Health Organization Supreme Court decision to overturn Roe.
On June 24, 2022, the United States Supreme Court issued its ruling on the Dobbs v Jackson's Women's Health Organization case, effectively overturning federal protections on abortion access, and giving way to state restrictions on abortion access across the country. Sign up to be notified when new releases of #WeCount data becomes available.
---
KEY HIGHLIGHTS FROM MOST RECENT FINDINGS
#WeCount compared July and August, the first two full months after the Dobbs decision, to a pre-Dobbs baseline (April 2022). A press release and our report on the findings are now available.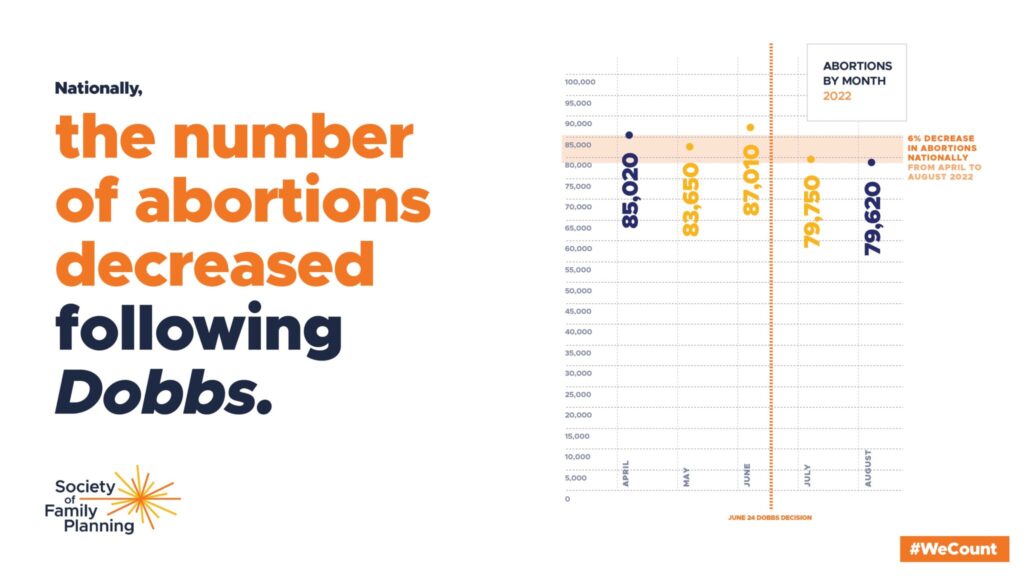 Share your data
For the data to be as powerful as possible, we need ALL abortion providers to participate. Enroll your practice today and make sure that your work is counted! Contact VArenas@SocietyFP.org for more information.
Media inquiries
Data on number of abortions by state will be released periodically and will be shared widely. Please contact sfp@conwaystrategic.com with questions.
Acknowledgements
These results are made possible by the many people who provide abortion care who generously participated in this collaborative effort.
These reports are prepared with the support of #WeCount Co-Chairs and Society of Family Planning staff with guidance from the Research Steering Committee members, as well as the support of many members of the Society of Family Planning community. View the full list of contributors.